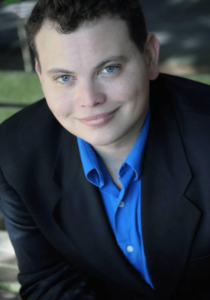 A 2017 Brian Law Competition Finalist and National Music Festival runner-up, Baritone Ryan Hofman is recent graduate from the University of British Columbia Master of Music in Opera program under the tutelage of J.Patrick Raftery. Originally from Peterborough, Ontario, Ryan was a proud member of the UBC Opera Ensemble from 2015-2017 where he made his company debut as De Brètigny in Massenet's Manon (November 2015). In February 2016, Mr. Hofman also appeared with the ensemble as Delaqua in Johann Strauss II's' Eine Nacht in Venedig. He recently completed a successful tour with the ensemble in the Czech Republic as Bartolo in Rossini's Barber of Seville. During his time with the ensemble, he also had the pleasure of participating in the Vancouver Symphony Orchestra Christmas Concerts tour of the Lower Mainland as well as appeared as a soloist in their October 2016 Tea and Trumpets concert.
This past Janurary, Ryan was a guest with the University of Ottawa Opera Ensemble appearing as the Count in Mozart's Le Nozze di Figaro, under Maestro Alain Trudel.
In April 2015, Mr. Hofman made his company debut with Pellegrini Opera (Schaunard; La Boheme) where he was hailed as "performing with gusto…[Mr. Hofman} sang with a pleasing and strong voice in a limited role which promises well for the future" (National Capital Opera Society; Summer 2015 Newsletter). This past March, he appeared with the company as Sacristan in Tosca.
A 2016 St.-Andrew's-on-the-Sea Opera Workshop alumnus, Mr. Hofman is also a recent winner of the NATS National Capital Region Senior Scholarship .
Ryan has appeared as a soloist with many choirs from across Canada, most notably the Cantata Singers of Ottawa, including a performance of the Fauré Requiem this past November.