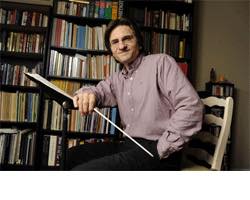 Join our Founder and Artistic Director Maestro Sabatino Vacca on Sunday January 22nd between 1:30-3:00PM at Burlington Public Library Central Branch, 2331 New Street for a talk on "Verismo" opera.
Please join Sabatino Vacca, Artistic Director of the newly formed Southern Ontario Lyric Opera (SOLO), as he discusses the world of "Verismo" opera.
Based on more realistic subject matters this tradition has given the world some of the most intensely emotional moments from the post-Romantic period by Italian composers such as Mascagni, Leoncavallo, Giordano and Puccini.
Audiovisual examples will be presented in this lively interactive discussion. Don't miss this opportunity to learn more about this passionate era in operatic history.
For more information and to register:
Please call 905-639-3611