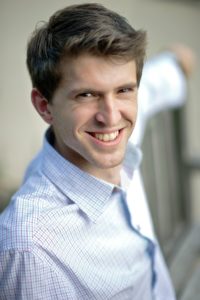 New Zealand born baritone Bradley Christensen has earned international praise for his "most well-rounded instrument…focused, rich, and sympathetically communicative" (Natasha Gautier, Ottawa Citizen). Most recently, selected by the International Resource Centre for Performing Artists as one of 10 'Singing Stars: The Next Generation', Bradley was the recipient of the Sondra Radvanovsky scholarship.
Bradley obtained his Master's degree from the University of Toronto where he was the recipient of the University of Toronto – Faculty of Music Vocal Performance and Pedagogy Graduate Award. He is also a graduate of the University of Auckland, completing a Bachelor of Arts, majoring in Italian, and a Bachelor of Music with Honours in singing. During his studies at the University of Auckland, he won the Pears-Britten singing scholarship, the Marie D'Albini scholarship in singing, and a travelling scholarship to study in Italy in 2007.
Since immigrating from New Zealand to Canada, Bradley has appeared in concert with Ottawa's Thirteen Strings, the Ottawa Choral Society, Kitchener-Waterloo Symphony, Grand Philharmonic Choir of Kitchener-Waterloo, Toronto Concert Orchestra, Hamilton Philharmonic Orchestra and the Toronto Children's Chorus to name a few.
In opera, he has performed with the Canadian Opera Company, Opera Atelier, Opera on the Avalon, Opera North (USA), the COSI Connection, the Highlands Opera Studio, as well as at the Westben Festival and the Festival of Sound with the Toronto Masque Theatre. Bradley is also a keen recitalist, having performed in the Canadian Opera Company Concert Series, the Concerts @100 Series, the Arts and Letters Club of Toronto, and with the Pocket Concert Group.