A Message from SOLO's Artistic Director
During our 2016/17 Season, we presented two operas at BPAC and held four concerts at two local churches.  True to our commitment to community outreach, our chorus participated in mini-concerts at seniors' residences and in various public events throughout the community.  I also gave two, well-attended, opera presentations, as part of the Burlington Central Library lecture series.
As our first venture, La Traviata was shown in a less costly, semi-staged format and audience feedback reflected that this simple treatment served only to enhance the appeal and poignancy of this time-honoured classic.  It was felt that the tragic story  and captivating music was sufficient unto itself and the performance was not at all diminished by the lack of props and costumes.
As a joint-venture with Opera York, "Tosca" afforded us additional flexibility.  Sharing some costs with this sister company allowed us the additional benefit of costumes and props.
These performances generated enthusiastic responses from our audiences and garnered extremely positive reviews.  Increased ticket sales for our second offering encouraged and strengthened our belief that there is an essential need and desire for this kind of cultural expression in the communities of  Southern Ontario.
Building on the success of our second season, we are busy preparing our programme for 2017/18.  Our "Events" tab, provides details of  this season's performances and will be updated frequently, as new and exciting engagements are confirmed.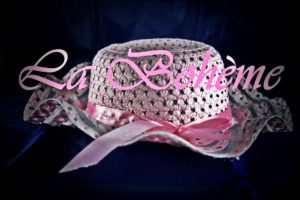 For the moment, I am proud to announce that we have chosen Puccini's "La Bohème" to mark the opening of our third season.  This unforgettable and heart-rending tale of doomed love, set amongst  carefree, but poverty-stricken, students in the Latin Quarter of Paris in 1830, is felt by many to be Puccini's finest score.
I will be giving a presentation on "La Bohème" at the Burlington Central Library (see "Events" tab for details.  Also, in keeping with the popularity of our pre-performance talks, your host, Adrian Sacco, will give a brief synopsis on the story and origins of the opera.
As a new fundraising initiative, there will be an opportunity to bid on a pair of airline tickets, courtesy of WestJet, to any of their scheduled destinations.
As this past season evolved, we were exhilarated to see our vision advance towards fruition.  We were confident in our belief that the fascinating and magical world of opera sadly lacked representation in the modern cultural mosaic of our locale.   SOLO has made significant progress in improving this woeful scenario and now grants opportunities for opera lovers to indulge their passion on many levels.
As we continue on our path to promote and campaign for opera, I would like to express my sincere appreciation and thanks to those of you who have attended our performances or pledged your support.  I am truly gratified by our achievements thus far and I am sure you will be intrigued and excited by the variety and appeal of our upcoming season.
I hope that we can count on your loyalty and support, and that you will continue to share with us the intensity and wonder of Opera & beyond …
Warm regards,
Sabatino Vacca